Take a tour of Northern Nevada HOPES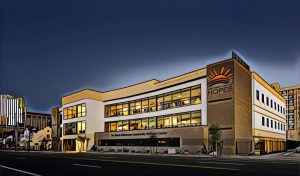 Northern Nevada HOPES hosts quarterly tours of the Stacie Mathewson Community Wellness Center open to community members, patients, and partners showcasing our beautiful facility. Tours will include coffee and a conversation with our Chief Executive Officer, Sharon Chamberlain.
Attendees will take a tour of our facility, featuring our adult and pediatric primary care and wellness clinics, our pharmacy, and Change Point, our harm reduction program.
The next tour will take place Wednesday, May 16th from 11:45 am am to 1 pm. Click here to register for the tour on Eventbrite.