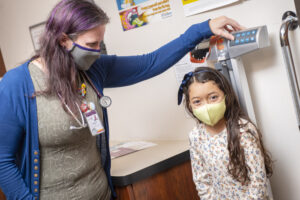 Our Pediatrics team cares for newborns through young adults. From well-child and teen visits, including lab work and vaccines and developmental screening, to managing illness, our team of medical, behavioral health, nutrition and case management specialists can provide the comprehensive care your child needs to be truly well.
Pediatric Services Include:
Pediatric primary care
Adolescent primary care
Behavioral health counseling
Case Management for social needs
Immunizations
Rapid Point-Of-Care testing
Onsite pharmacy
Onsite lab
Onsite x-ray and ultrasound
Paying for care
HOPES accepts insurance, Medicaid, and Medicare, and provides discounted services on a sliding fee scale.
Learn more about why now's a good time to schedule an appointment for your child and why HOPES is a great option for your family.
Why is now a good time to bring in your child for an appointment?
The key for pediatric and adolescent health care is regular checks of growth and development. Many families understandably delayed these visits in the beginning of the pandemic, and now many kids and teens are behind in their screenings, exams and vaccines. We have extensive procedures in place to take care of sick patients with potential infections outside of the clinic walls, protecting the staff and patients inside. Regardless of what the need is, we have a way to address it. For some issues, kids don't need a visit in person, and we can offer phone or video visits. Other times, when we need to check growth and do an exam, in person visits are better.
Check the CDC's recommended Immunization Schedule to see if your child is up-to-date.
Why is HOPES a great option for your child's pediatric care?
At HOPES, we have a large team of both pediatric and family practice providers who work together to take care of newborns through young adults. At every age and every need we have providers who are very capable and experienced. At HOPES the medical providers work closely with therapists, psychiatrists, case managers, pharmacists, radiology techs, lab techs, medical assistants, nurses, a nutritionist, community health workers and many more, to take care of patients. It's a one-stop experience when additional needs are discovered.
Do kids have to use the adult Open Access system to become a patient?
Kids and teens interested in becoming new patients go through a very different process than adults do. We are excited to add new patients to our open providers, and can make availability within two weeks, often within days.
To become a patient and complete forms, visit our new patient page. Then call (775) 786-4673, option 1 to schedule an appointment.