When your blood pressure is too high for too long, it damages your blood vessels – and LDL (bad) cholesterol begins to accumulate along tears in your artery walls. This increases the workload of your circulatory system while decreasing its efficiency.
As a result, high blood pressure puts you at greater risk for developing life-changing and potentially life-threating conditions.
The higher your blood pressure and the longer it goes uncontrolled, the greater the damage.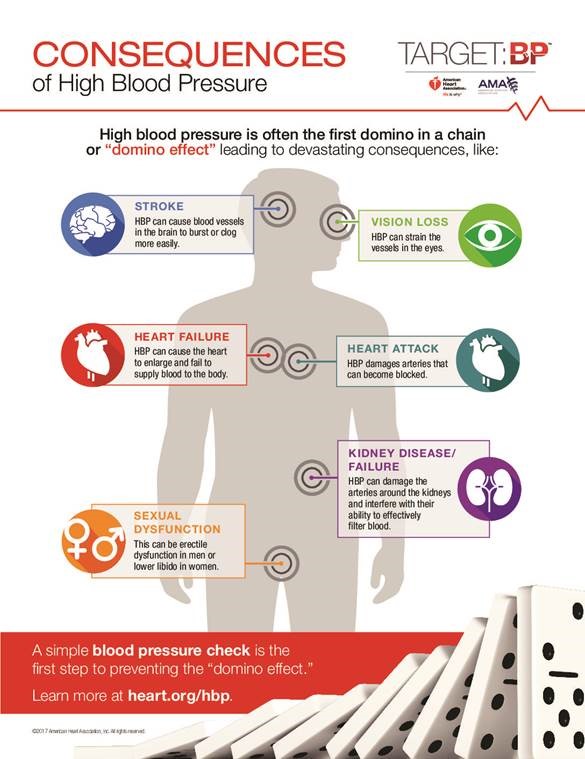 Uncontrolled high blood pressure can lead to complications including:
Heart attack or stroke. High blood pressure can cause hardening and thickening of the arteries (atherosclerosis), which can lead to a heart attack, stroke or other complications.
Aneurysm. Increased blood pressure can cause your blood vessels to weaken and bulge, forming an aneurysm. If an aneurysm ruptures, it can be life-threatening.
Heart failure. To pump blood against the higher pressure in your vessels, the heart has to work harder. This causes the walls of the heart's pumping chamber to thicken (left ventricular hypertrophy). Eventually, the thickened muscle may have a hard time pumping enough blood to meet your body's needs, which can lead to heart failure.
Weakened and narrowed blood vessels in your kidneys. This can prevent these organs from functioning normally.
Thickened, narrowed or torn blood vessels in the eyes. This can result in vision loss.
Trouble with memory or understanding. Uncontrolled high blood pressure may also affect your ability to think, remember and learn. Trouble with memory or understanding concepts is more common in people with high blood pressure.
Dementia. Narrowed or blocked arteries can limit blood flow to the brain, leading to a certain type of dementia (vascular dementia). A stroke that interrupts blood flow to the brain also can cause vascular dementia.