It's National Diabetes Awareness Month, so we are posting resources and health tips throughout November to help you stay healthy.
30.3 million Americans have diabetes, and 1 in 4 don't know they are diabetic. Here is a free screen tool that can help you assess your diabetes risk: https://doihaveprediabetes.org/take-the-risk-test/#/
The U.S. Preventive Services Task Force recommends screening for prediabetes and type 2 diabetes in adults 40 to 70 years of age who are overweight or obese and repeating testing every three years if results are normal. Individuals at higher risk should be considered for earlier and more frequent screening.  If you think you are at risk for developing diabetes, please talk with your provider!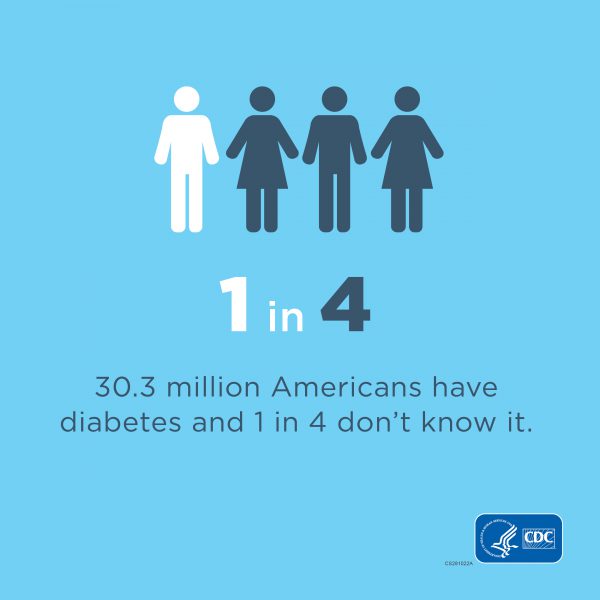 Here's a healthy breakfast recipe:
Baked Eggs with Roasted Vegetables
Ingredients
Creates 6 servings
3 cups small broccoli florets (about 1 inch in size)
12 ounces yellow potatoes, such as Yukon Gold, cut into ½- to ¾-inch pieces (about 2 cups)
1 large sweet potato, cut into ½- to ¾-inch pieces (about 1 cup)
1 small red onion, cut into thin slices
2 tablespoons olive oil
6 eggs
2 ounces Manchego cheese, shredded ( ½ cup)
½ teaspoon cracked black pepper
Preparation
Preheat oven to 425°F. Coat a 2-quart rectangular baking dish with nonstick cooking spray. In a large bowl combine broccoli, yellow potatoes, sweet potato, onion, olive oil, and ¼ teaspoon salt, tossing to coat vegetables. Spread vegetable mixture evenly in the prepared pan. Roast for 10 minutes. Stir vegetables; roast about 5 minutes more or until vegetables are tender and starting to brown. Remove from oven. Let vegetables cool for 20 minutes. Reduce the oven to 375°F. Make six wells in the layer of vegetables. Break an egg into each well. Bake for 5 minutes more. Sprinkle with cheese. Bake for 5 to 10 minutes more or until eggs whites are set and yolks are starting to thicken. Sprinkle with pepper.
Nutrition information
Per serving: 232 calories; 12 g fat(4 g sat); 4 g fiber; 21 g carbohydrates; 11 g protein; 67 mcg folate; 218 mg cholesterol; 4 g sugars; 4,671 IU vitamin A; 53 mg vitamin C; 112 mg calcium; 2 mg iron; 332 mg sodium; 589 mg potassium
Adapted from eatingwell.com