When Riley first started meeting with HOPES Registered Dietitian Kate Ault, she was overweight, depressed, and feeling discouraged about her future. Four months later and 70 pounds lighter, Riley is full of hope and praise for her HOPES care team.
"I feel a lot better because I've lost a lot of weight. I feel better mentally too," explains Riley, "Now that I've been shown that I can lose weight effectively, I feel a lot more encouraged to keep doing it. I am looking forward to the future rather than dreading it."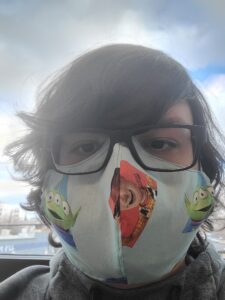 Kate taught Riley a variety of weight management skills, including how to assess a nutrition label, proper portion size, meal timing, and how to identify healthy foods. "Kate is really friendly," says Riley. "I like talking to her and really enjoyed our appointments because she is nice and knowledgeable. I would ask her specific questions, and we would just talk because I think nutrition is really interesting."
In addition to nutrition services, Riley also uses HOPES primary care services, on-site lab services, and transgender care. She appreciates all the HOPES providers and staff and feels welcomed by them.
"I really like the environment — it makes me feel comfortable," she says. "In the general public, I can feel uncomfortable easily, but when I go to HOPES, I don't feel judged or anything."
Your gifts enable HOPES to serve people like Riley – underserved by traditional medical facilities – with kindness, respect and compassion. When you give to HOPES, you not only support quality health care for people like Riley, you give them hope.