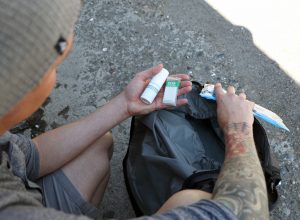 Northern Nevada Credit Union Chapter has partnered with Northern Nevada HOPES to support HOPES' Housed and Healthy program by collecting supplies for people experiencing homelessness during the month of September.
As part of the Pack the Pak initiative, The Northern Nevada Credit Union Chapter will collect hygiene supplies and donations to help incentivize people experiencing homelessness to engage in HOPES' health and wellness services. Community members can also go to nnhopes.org/pak/ to donate items through an Amazon Wish List or contribute funds to the program.
These individuals will be given 'passports to wellness' that encourage them to engage in HOPES' wrap-around services such as primary care, case management, behavioral health counseling, food pickups and more. When people complete their passports, they will be eligible to receive a Citypak backpack filled with hygiene and life-sustaining supplies.
Suggested donation items include: socks, shaving cream, refillable water bottles, deodorant, lip balm, combs/brushes, sunscreen, soap, shampoo, hand and foot warmers, cleansing wipes, disposable razors, female hygiene products, non-perishable food items, bus passes and grocery gift cards.
The credit union will host collection bins at three locations:
Main Branch
9770 S. Virginia St.
Reno, NV 89511
Northwest Branch
9600 S. McCarran Blvd.
Reno, NV 89523
Sparks Crossing Branch
295 Los Altos Pkwy., Suite 105
Sparks, NV 89436
HOPES currently serves more than 9,000 low-income individuals living in northern Nevada. The Reno 2016 Point in Time Count found about 132 individuals living on the streets, 452 people staying the night in homelessness shelters, 392 people in transitional housing and 3,680 people living in weekly motels. People experiencing homelessness often transition between these living conditions depending on their resources and the time of year.
HOPES' Housed and Healthy program engages individuals experiencing homelessness and provides intensive case-management and wrap-around services designed to empower individuals and improve health outcomes and quality of life. Many people experiencing homelessness deal with a number of physical diseases along with behavioral health problems and substance use disorders. Many of these service-resistant individuals have faced sigma in the past and are wary of engaging with medical professionals to proactively manage health problems. This can lead to expensive emergency room visits that cost hospital and taxpayer dollars.
"The Housed and Healthy Program provides a path to permanent housing and peace for members of our community who live out on the streets," said Sharon Chamberlain, CEO of HOPES. "It's one part of a spectrum of solutions to making Reno a better place to live for every one of our neighbors."
Through the Housed and Healthy program, HOPES' Community-Based Case Managers walk the streets of our community visiting homeless camps along the river and under bridges, parks, weekly motels and a variety of other locations where those experiencing homelessness frequent. These case managers cultivate a relationship that builds trust with these service-resistant individuals so they feel more comfortable accessing medical and case management resources which can start them down the path to better health and permanent housing.
Services provided through the program may include case management, primary care, behavioral health counseling, hepatitis C/HIV testing, short-term stabilization housing and permanent housing case management.