Northern Nevada Credit Union Chapter is partnering with Northern Nevada HOPES' Housed and Healthy Program
What is the Housed and Healthy Program?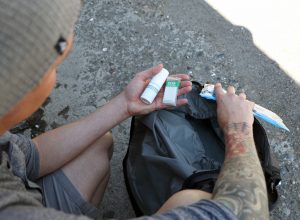 The Housed and Healthy program is designed to incentivize individuals experiencing homelessness to access various healthcare and case management services at HOPES. Part of the program provides a passport-like booklet for individuals to use as a roadmap for their personalized treatment plan. The passport includes pages for primary care, housing case management, food pick up and more! Once clients utilize these services and fill their passport, they will be eligible to receive a Citipak back pack full of outreach supplies.
This program will help bridge the gaps between the streets and permanent housing by engaging highly service-resistant individuals in HOPES' care. When they are ready to take that next step, they will already be comfortable working with HOPES to take control of their health.
Services may include:
Case management
Primary Care
Behavioral health
Support services
Short-term stabilization housing
Permanent housing placement
HCV/HIV testing
The purpose of the program is to:
Engage individuals experiencing homelessness and provide intensive case-management and wrap around services to empower and improve health outcomes and quality of life.
Drop-off locations outside of the Reno/Sparks Area:
Hawthorne
895 E St. Hawthorne, NV 89415
(775) 945-2421
Winnemucca 
311 Bridge St. Winnemucca, NV 89445
(775) 625-3700
Yerington
201 N. Main Street Yerington, NV 89447
(775) 463-7842
Fallon
2711 Reno Hwy Fallon, NV 89406
(775) 428-6768
Items welcome for donation include:
Socks
Refillable water bottles
Chap stick/lip balm
Sunscreen
Hand and foot warmers
Sunscreen
Disposable razors
Shaving Cream
Deodorant
Combs/brushes (new)
Soap
Shampoo
Cleansing wipes
Non-perishable food items
Bus passes
Female hygiene products
Grocery gift cards
Contribute through Amazon Wishlist
Shop for donations online and have items sent straight to HOPES to benefit people experiencing homelessness.
Thanks to all our Credit Union Chapter Partners: