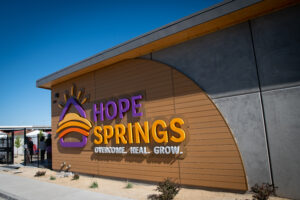 Northern Nevada HOPES has welcomed the first cohort of residents to Hope Springs, the region's first and only bridge housing community for individuals experiencing homelessness.
The first residents at Hope Springs are all adults over the age of 18, both men and women. Residents have access to all of Northern Nevada HOPES' (HOPES) comprehensive medical and wellness services and many have shared the sense of safety and security they're feeling, often for the first time in years. This sense of safety has led many residents to seek medical care they have put off, knowing they have a stable place to recuperate.
"We have been, and remain, committed to working with the community we're serving to bring them the safety and resources they'll need to thrive," said Sharon Chamberlain, Chief Executive Officer at Northern Nevada HOPES. "We're very intentional about ensuring we take our time to bring new residents into the program, that we're listening and learning. We want to do this right."
The Hope Springs campus consists of 30 units, in addition to a central facility with showers, restrooms, a kitchen and community space, including a garden and dog park. Current and future residents go through a rigorous screening process to determine readiness for program participation. Residents will likely remain in the homes an average of six to eight months before moving to more permanent housing as they achieve milestones and ultimately "graduate" from the program.
Current residents are working with the onsite, multidisciplinary HOPES staff on their individualized care plans, attending therapy, group meetings, maintaining chores, gardening and cooking.
"The support from this community has been so encouraging," said Chamberlain. "Our residents know the community is invested in their success, and we've had a great time brining partners onsite to see the campus and meet the residents."
Hope Springs is located at 1920 E. 4th Street in Reno. To learn more about Hope Springs and opportunities to contribute to the development and sustainability of the project, visit nnhopes.org/hopessprings/.