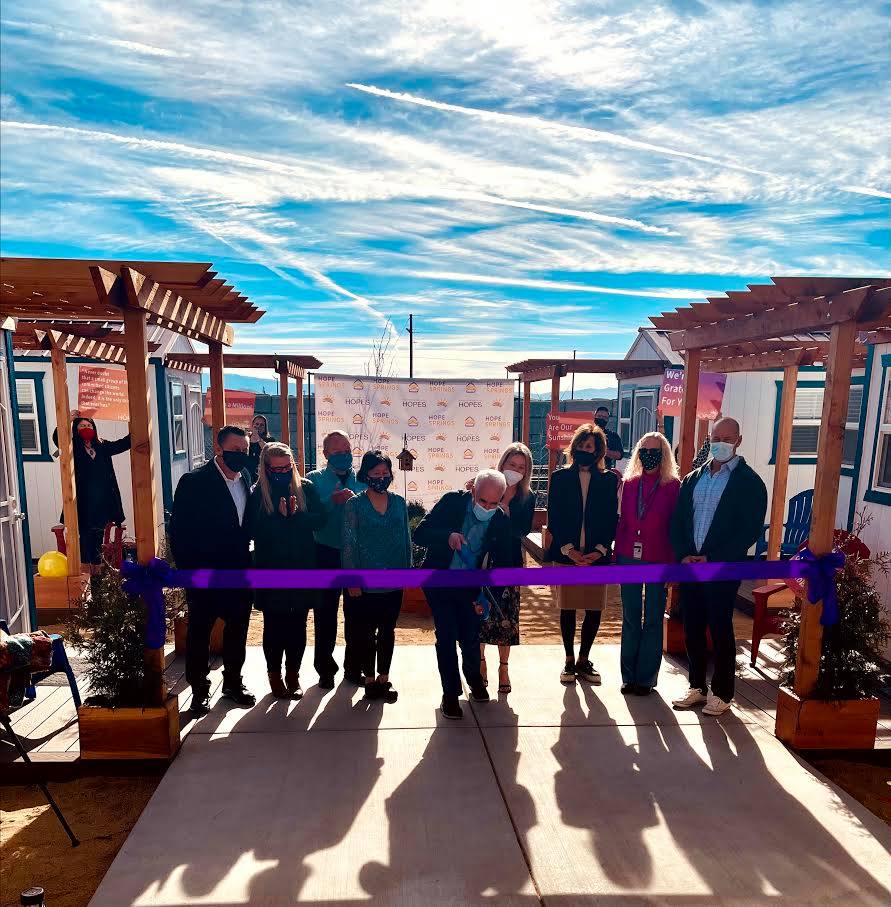 January 14, 2021 officially marked the Grand Opening of Hope Springs and the start of the next chapter in housing solutions for our community.
The Grand Opening was a great success thanks in large part to our emcee and board member, Todd Felts.  The program included remarks from HOPES Board President, Doug Brewer, Senator Catherine Cortez Masto, Senator Jacky Rosen, Congressman Mark Amodei, and former HOPES patient turned Hope Springs supporter, Alex Johnson.
We're grateful for the few partners and staff who were able to safely join us onsite for the ribbon cutting, including: Doug Brewer, Todd Felts, Alex Johnson, HOPES' Chief Operations Officer, Ivy Spadone, HOPES' Chief Financial Officer, Debbie Devay, HOPES' Director of Philanthropy and Communications, Mandi Fleiner, project supporters Bob Conrad, Pat Cashell and Abbi Whitaker. Thanks to Ann Silver and The Chamber of Commerce for helping us kick off this special project.
The HOPES team is especially grateful to our IT and Facilities team, led by Jake Wahrer, for their support and dedication to bringing CEO, Sharon Chamberlain's vision to life.  
Thank you everyone who supported this first-of-its-kind project, and most importantly, for giving the most vulnerable members of our community a chance to overcome, heal, and grow.
Grand Opening Media Coverage:
This Is Reno | VIDEO: Tiny homes village opens in Reno
KUNR | A New Transitional Housing Community Opens In Reno
KOLO News Channel 8 | Northern Nevada Hopes unveils new Hope Springs transitional community
News Talk 780 KOH | Northern Nevada HOPES Completes Construction on "Hope Springs" Project
To learn more about Hope Springs and the donors who made this project possible visit: www.nnhopes.org/hopesprings/.
Stay up-to-date on Hope Springs and future projects by Northern Nevada HOPES, by signing up to receive our e-Newsletter.
www.nnhopes.org/newsletter/