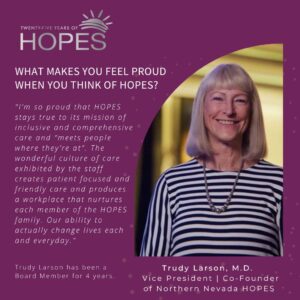 Dr. Trudy Larson, co-founder of HOPES and Board Vice-President, recently appeared on
Aging & Awesome
highlighting HOPES' efforts to reduce barriers to accessing care by offering transportation, medication delivery, onsite labs and more!
HOPES offers a range of onsite services, including primary care, chronic disease management, women's health services, behavioral health counseling, substance use counseling, nutrition, a pharmacy, social services, and health education and outreach.
Telehealth options are now available for selected services.
Visit www.nnhopes.org/patients/services/ to learn more!