Quality care for a healthy start in life
Our Pediatrics team cares for newborns through young adults. From well-child and teen visits, including lab work and vaccines and developmental screening, to managing illness, our team of medical, behavioral health, nutrition and case management specialists can provide the comprehensive care your child needs to be truly well.
Pediatric primary care
Adolescent primary care
Behavioral health counseling
Case Management for social needs
Immunizations
Rapid Point-Of-Care testing
Onsite pharmacy
Onsite lab
Onsite x-ray and ultrasound
Urgent Appointments
Same day appointments for children experiencing illness or injury.
We also offer testing for Respiratory Syncytial Virus (RSV), Influenza and COVID-19.
Paying for care
HOPES accepts insurance, Medicaid, and Medicare, and provides discounted services on a sliding fee scale.
Become a pediatric patient at HOPES
Scheduling Your First Pediatric Appointment
Pediatric new patient appointments can generally be scheduled within a week of your phone call.
Call (775) 786-4673 and dial option 1 between 8:00 am – 5:00 pm, Monday–Friday, and ask to schedule a new pediatric patient appointment.
Establishing Care for an individual under the age of 18 is different than becoming a new patient as an adult.
An Intake & Eligibility Coordinator will take your information and schedule your child's first appointment.
Complete the new patient forms and bring them to your appointment.
Thank you for coming to HOPES.
Please note: After you are established as a HOPES patient, you can call anytime during normal business hours to schedule your regular appointments.
New Patient Forms
To become a HOPES patient, please download and complete the following forms and bring them to your first appointment.
Pediatric English Forms
Pediatric Patient Registration and Health History (English)
Notice of Privacy Practice (English)
Pediatric Spanish Forms
Las Formas de Registracion para Pacientes de Pediatria y Historial de Salud Pediátrica (Español)
If you are uninsured, you can view our Sliding Fee Scale:
Sliding Fee Scale (English and Español)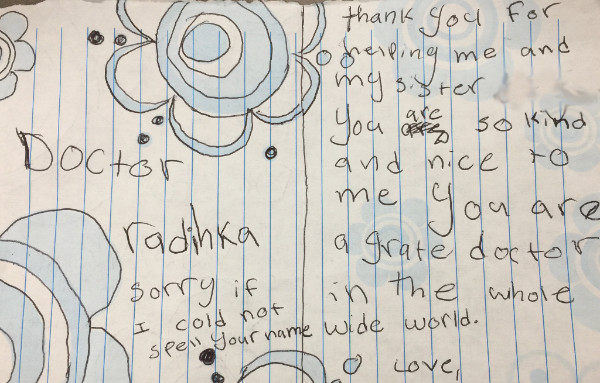 9-year-old breathes sigh of relief
Read Maria's story of good care and gratitude.
Read Maria's Story