LGBTQIA+
Lesbian, Gay, Bisexual, Transgender, Questioning/Queer, Intersex, Asexual, Plus
Connecting our LGBTQ+ community
At HOPES, we welcome all members of the Lesbian, Gay, Bisexual, Transgender, and Queer community. We support the LGBTQ+ community by providing culturally competent healthcare, social services, and community outreach and education. Together, we can create a strong, cohesive LGBTQ+ network that connects people, solves problems, and builds a healthier Reno community.
Get Your Pride Sticker
Stickers are currently sold out and new versions are coming soon!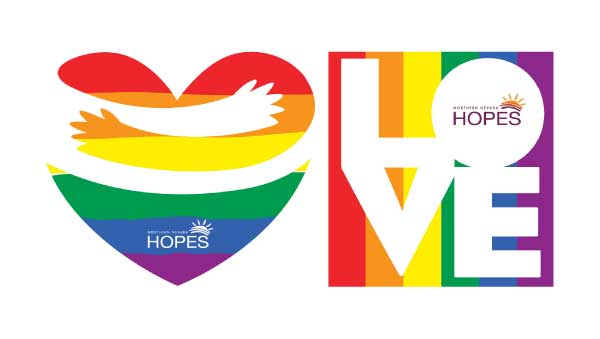 At HOPES, we provide judgment-free, culturally competent healthcare services for lesbians, gays, bisexuals, transgender, and queer individuals in our community. We believe that everyone should have access to quality healthcare in a safe and supportive environment.
We offer fast, free, confidential HIV and hepatitis C testing. Both tests involve a simple finger stick that tests for antibodies in the blood, and results are ready in 15-20 minutes.
Our Wellness Clinic offers integrated behavioral health counseling, including individual counseling, couples counseling, and substance use counseling.
Northern Nevada Transgender Resource Guide