What is Change Point?
Change Point is a program of Northern Nevada HOPES and is Nevada's first legal syringe services program.
Change Point provides syringe services, harm reduction supplies, counseling, and free HIV and hepatitis C testing.
Change Point embraces diversity and advocates for medically underserved groups in the community.
Have you come across an area in our community with littered syringes? Let our team at Change Point know by e-mailing them at Outreach@nnhopes.org and they will go to the area and safely dispose of the syringes.

Syringe Exchange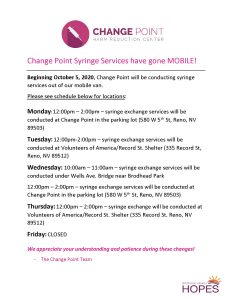 Mobile Program Hours
As of October 5, 2020
Monday – Change Point 580 W. 5th St, Reno, NV 89503
12:00pm – 2:00pm
Tuesday – VOA/Record St. Shelter 335 Record St, Reno, NV 89512
12:00pm – 2:00pm
Wednesday – Under Wells Ave. Bridge near Broadhead Park
10am – 11am
Wednesday – Change Point 580 W. 5th St, Reno, NV 89503
12:00pm – 2:00pm
Thursday – VOA/Record St. Shelter 335 Record St, Reno, NV 89512
12:00pm – 2:00pm
Friday CLOSED
Resources
SYRINGE DISPOSAL – WASHOE COUNTY
CHANGE POINT – MOBILE SYRINGE EXCHANGE FLYER
NALOXONE FINDER – NATIONAL RESOURCE