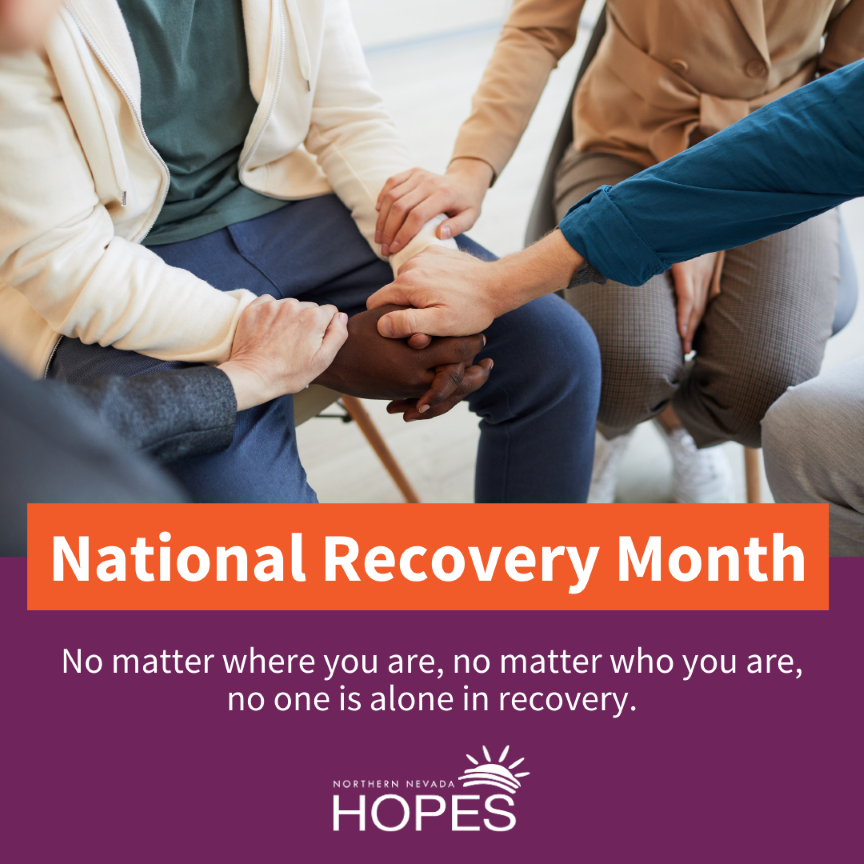 At Northern Nevada HOPES, every September holds a special significance as we join hands to celebrate National Recovery Awareness Month. This dedicated month offers us an opportunity to acknowledge and support individuals who have embarked on the courageous journey of recovery from substance use disorders and mental health challenges. Recovery Awareness Month, organized by the Substance Abuse and Mental Health Services Administration (SAMHSA), strives to raise awareness, break the stigma surrounding addiction and mental health, and celebrate the successes of those in recovery. In this blog post, we'll delve into the significance of Recovery Awareness Month, explore SAMHSA's initiatives, and highlight how Northern Nevada HOPES plays a pivotal role in supporting recovery through our Medically Assisted Treatment (MAT) Program with our MAT Prescriber, Dr. Taylor Tomlinson, MD in Family Practice and Substance Use.
Understanding Recovery Awareness Month
Recovery Awareness Month is an annual observance that has been taking place since 1989. Its primary goal is to increase awareness and understanding of mental health and substance use issues while celebrating the achievements of individuals in recovery. It emphasizes that recovery is not only possible but also a reality for millions of people across the United States.
Northern Nevada HOPES' Role
At Northern Nevada HOPES, we take great pride in being part of the Recovery Awareness Month movement. We are a beacon of hope for individuals seeking assistance in their recovery journey from substance use disorders. Our mission is to provide comprehensive support, understanding, and a path to healing for those on the path to recovery.
Our MAT Program
Medically Assisted Treatment (MAT) is a cornerstone of our commitment to recovery. Through our MAT Program (https://www.nnhopes.org/mat/), we offer a holistic approach to recovery, addressing both the physical and psychological aspects of addiction. Here's how we make a difference:
Medication Management: HOPES provides FDA-approved medications to treat substance use disorders. These medications help reduce cravings and withdrawal symptoms, allowing individuals to focus on their recovery journey.
Counseling and Therapy: Alongside medication, HOPES offers counseling and therapy services to address the psychological aspects of addiction. Our comprehensive approach fosters lasting recovery and overall well-being.
Peer Support: We understand the importance of peer support in the recovery process. We connect individuals with peers who have experienced similar challenges, creating a supportive community.
Coordinated Care: HOPES believes in coordinated care, working closely with each patient to develop a personalized treatment plan that aligns with their goals and needs.
Hear directly from Dr. Tomlinson to learn more about our MAT Program and how we support our patients in recovery through medication management, peer support, behavioral health and more wrap-around services. Part 1, Part 2
Our Commitment to Recovery Awareness
During Recovery Awareness Month, we stand alongside individuals in recovery, their families, and our community to celebrate the strength, resilience, and hope that recovery brings. We invite you to explore the resources provided by SAMHSA (https://www.samhsa.gov/recovery-month) and join us in breaking the stigma surrounding mental health and substance use disorders.
Conclusion
Recovery Awareness Month is a powerful reminder that recovery is not only possible but achievable with the right support, resources, and understanding. By embracing the resources and initiatives provided by SAMHSA and seeking assistance from Northern Nevada HOPES and our MAT Program, individuals can embark on a path to recovery filled with hope, healing, and support. Together, we can create a more compassionate and supportive world for those on the journey to recovery.
If you know anyone who may be dealing with suicidal tendencies, please have them call 988 for the Suicide & Crisis Lifeline.