Northern Nevada HOPES hosts the first annual OutWest Film Fest, an LGBTQ film festival, throughout downtown Reno from Oct. 16 – 18.
OutWest Film Fest is a weekend of film screenings, panels and parties that celebrates LGBTQ (Lesbian, Gay, Bisexual, Transgender, and Queer) culture. The film festival will screen shorts, feature films and documentaries at Good Luck Macbeth Theatre Company and the Nevada Museum of Art in the Prim Theater.
The two showcase films for OutWest Film Fest will be "Desert Hearts" and "Matt Shepard Is a Friend of Mine." To commemorate the 30-year anniversary of "Desert Hearts," Director Donna Deitch will host a Q&A panel to talk about filming the movie in Reno and its trailblazing LGBTQ themes. Zeina Barkawi, producer of "Matt Shepard Is a Friend of Mine," and personal friend of Shepard, will also host a Q&A panel after the screening of the documentary.
Screenings throughout the weekend include the two showcase films, a gay-themed film block, a lesbian-themed film block, a documentary film block, a family-friendly transgender film block, and an LGBTQ youth block with additional showings to be announced. Visit http://outwestfilmfest.org/films to view the film lineup, read synopsizes, watch trailers and buy tickets.
Tickets are $10 online and $15 at the door. HOPES encourages moviegoers to buy tickets ahead of time as seating is limited.
The film festival begins with the OutWest Kick-Off Party, which will be held at West St. Market on Friday, Oct. 16 from 7 p.m. to 11 p.m. The festival will also feature a VIP Party at The Stage @ The Zone in Harrah's Reno on Saturday from 9 p.m. to 11 p.m.
Immediately following the VIP Party on Saturday is the western-themed OutWest Drag Party at 5 Star Saloon. HOPES will also host the OutWest Wrap-Up Party on Sunday Oct. 18, with time and location TBA.
For more information about the first annual OutWest Film Fest, people can go to OutWestFilmFest.org to buy tickets, look at the schedule of events and buy OutWest shirts.
Matt Shepard Is A Friend of Mine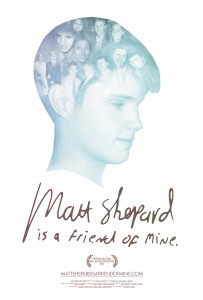 On October 7, 1998, University of Wyoming student Matthew Shepard was brutally beaten, tied to a fence and left to die because he was gay. Years later, Michele Josue, a close friend of Matt's, revisits the shocking case with never-before-seen photos, rare video footage, as Matt's all-too-brief life is remembered through the vivid testimonies of those whose lives he touched, from the friends and family who knew him best to the bartender who saw him on the night of the attack. New revelations emerge in one of the most notorious hate crimes in US history, leading to a searing, poignant, and multi-layered biographical and sociological portrait. In the end, the notion of forgiveness–embodied in the moving and courageous final act of Matt's parents–takes on truly heroic proportions.
Desert Hearts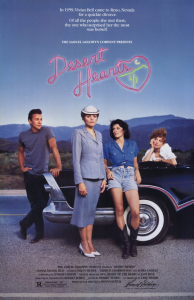 It's 1959, and New York English professor Vivian Bell (Helen Haver) has come to Reno for a quickie divorce. Staying at a dude ranch, she meets the proprietor's stepdaughter, the sexy casino change-girl Cay Rivvers (Patricia Charbonneau). Despite their differences, sparks fly as free-spirited Cay introduces strait-laced Vivian to the wild-west casino scene and the breathless beauty of the desert. No one is angrier than the dude ranch proprietor (Andre Lindley). And no one is more surprised than the beautiful-but-repressed Vivian when the friendship evolves into unexpected, hot passion.