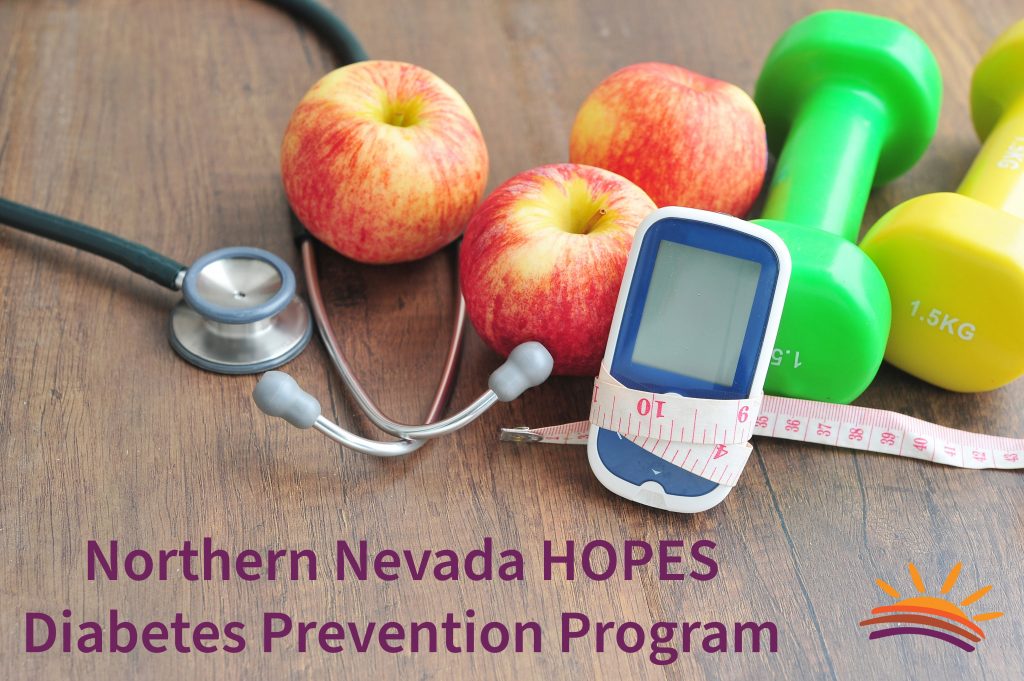 Learn about HOPES Diabetes Prevention Program (DPP) and how its innovative model is changing the lives of our patients and improving the health of our community.
What is the Diabetes Prevention Program at HOPES?
Through a generous grant from Renown Health, HOPES launched a Diabetes Prevention Program in January 2019. The CDC program is an evidenced-based for pre-diabetics and has been shown to prevent or delay type 2 diabetes in high-risk patients. The goal for each participant is to lose ≥5% of their body weight by progressively reducing dietary intake of calories and fat through improved food choices, gradually increasing moderate physical activity to ≥150 minutes per week, and developing behavioral problem-solving and coping skills. HOPES launched nine classes in 2019, five in Spanish and one in English. In 2020, we launched four Spanish classes and one in English.   
How does the program work?
The CDC's Diabetes Prevention Program is helping HOPES' patients address all domains of their health; social, emotional, mental and physical. The classes are structured to meet 22 times over the course of a year, more frequently in the beginning and then longer between classes to help patients' develop self-management skills. Each class covers a different health-related topic ranging from proper nutrition to stress management. The health education has not been the only beneficial part of the program; the group classes have developed a support system for one another. Friendships have blossomed and the groups have been able to hold each other accountable, to share ideas, recipes and struggles.
HOPES DPP Patient Case Study:
40 year old, Hispanic male, smoker
Patient began classes 2019 and he attended 100% of classes, stopped smoking, and began exercising five times per week. He has modified his nutrition and is using a balanced approach to eating. The patient reported the following symptoms have resolved: headaches, constipation, heartburn, fatigue and sleep disturbances. He was able to achieve and maintain a 20% weight loss. His lab values improved dramatically and he has been able to maintain his progress six months after the completion of class.
How the DPP has Pivoted During COVID-19?
All classes were converted to a virtual delivery mid-March through mid-July
52 DPP Classes were delivered during the shelter-in-place orders
A hybrid model (in-person or virtual, patient preference) continues to be ordered for all classes to ensure social distancing and allow options for all of our patients to continue to participate
What sets HOPES Diabetes Prevention Program Apart?
This year, Northern Nevada HOPES earned CDC Preliminary Recognition for our Diabetes Prevention Program. This designation is reserved for programs that are effectively delivering a quality, evidence-based program and have proven to be advancing toward CDC Full Recognition. HOPES anticipates receiving full recognition from the CDC in January 2021.
I'm a HOPES patient and want to enroll in the Diabetes Prevention Program, what should I do?
Patients can ask their provider for a referral to the Diabetes Prevention Program. A Community Health Worker (CHW) will then reach out to get the patient enrolled in the next class.
If you are interested in becoming a patient at HOPES, visit: www.nnhopes.org/patients/become-a-patient/ or call us Monday – Friday at (775) 786-4673.