(Reno, Nev.) June 16, 2015 – Northern Nevada HOPES and Washoe County Senior Services are bringing medical resources to rural Nevada.
The Gerlach Rural Health Fair is a free, all-ages event. It will be held at the Gerlach Community Center at 410 Cottonwood St. Gerlach, NV 89412 on July 8 from 11 a.m. to 3 p.m.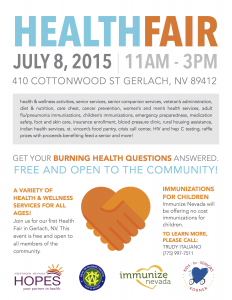 The fair will feature immunizations for adults and children, food distribution, insurance enrollment assistance (including Medicaid), breast care and cancer prevention information, a blood pressure clinic, medication safety management, emergency preparedness, veteran services, foot care services, rapid and free HIV and hepatitis C testing, rural housing assistance and Indian services.
St. Vincent's Food Pantry will bring a 28-foot refrigerated truck to distribute free food to attendees as well.
Accessing healthcare services in Gerlach can be challenging for residents. There are no local medical resources for many of Nevada's rural communities and the closest emergency care facilities are often hours away.
"People living in Nevada's rural communities have to travel a long way to access health and wellness services," Trudy Italiano, RN, HOPES' Seniors' Supportive Nurse, said. "So we are bringing the medical resources to them."
The event is meant to connect people who live in isolated communities with healthcare services they might not be aware of and help them better manage their health and wellness.
A raffle will be held to benefit the "Feed A Senior" program in Gerlach. The grand prize for the raffle is two VIP tickets for any Boomtown concert of the winner's choice.
Organizations present at the event include Northern Nevada HOPES, Washoe County Senior Services, Immunize Nevada, KIDS to SENIORS Korner, Access to Healthcare, Sanford Center for Aging, Northern Nevada Center for Independent Living, NV Rural Housing Authority, Indian Health Services, Crisis Call Center, Miners Nurse Group, Happy Feet 2, American Red Cross, Seniors in Service, For Kids Foundation, Nevada Department of Veterans Services, and St. Vincent's Food Pantry.