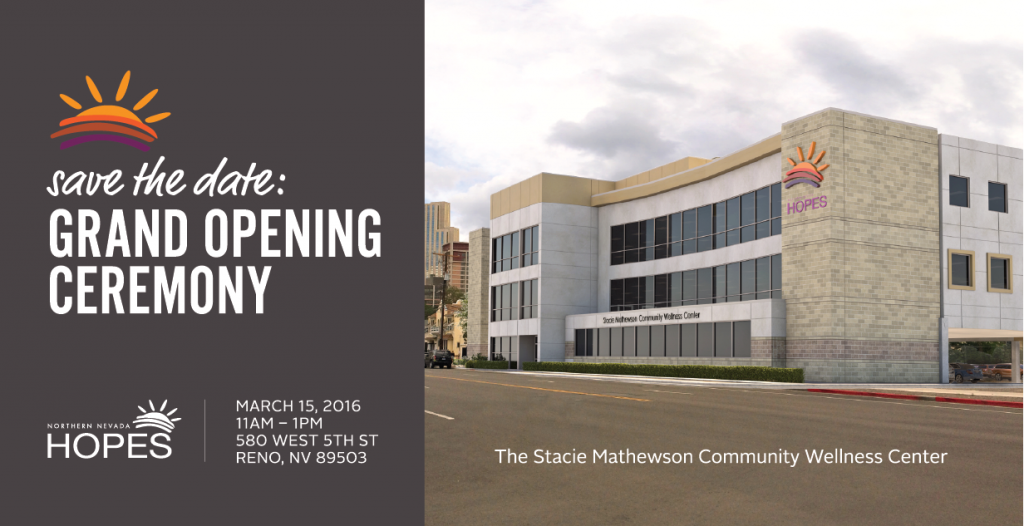 Northern Nevada HOPES' new medical facility, The Stacie Mathewson Community Wellness Center, has opened its doors and is now serving the public.
HOPES will celebrate the completion of the Stacie Mathewson Community Wellness Center with a grand opening ceremony on March 15, from 11 a.m. to 1 p.m. inside the new building located at 580 West 5th Street.
The three-story, 37,500-square-foot medical facility will provide comprehensive healthcare to individuals and families in Northern Nevada. With an Adult Clinic, the Montoya Pediatric Clinic, and a Wellness Clinic, the new building will allow HOPES to expand its medical and wellness services and significantly increase the amount of patients it serves.
In 2015, Northern Nevada HOPES provided primary care, behavioral health counseling, chronic disease management, wellness and nutrition counseling, as well as social services to more than 4,700 people in the community. Other services included insurance enrollment, housing assistance, transportation, medication delivery, and a full service pharmacy.
According to the Nevada Legislative Counsel Bureau, there are only 226 physicians for every 100,000 Nevadans. The state ranked 47th in physician to patient ratio. With the new medical facility, HOPES will be able to expand services to an estimated 10,000 underserved patients by 2017.
"Though the Affordable Care Act helped millions of Americans get coverage and expanded Medicaid, there are plenty of Nevadans who still face barriers to accessing quality, affordable healthcare," Sharon Chamberlain, HOPES CEO, said. "At HOPES, we work with patients to break down those barriers so all Nevadans can get the healthcare they deserve."