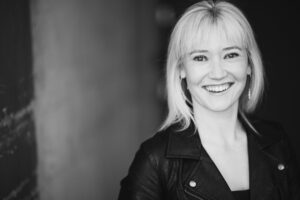 Mandi Larsen, director of philanthropy and communications from Northern Nevada HOPES has been included in the Association for Healthcare Philanthropy (AHP) 2021 40 Under 40 list, an international program that celebrates emerging leaders within the healthcare philanthropy community. Larsen will be invited to a virtual recognition ceremony on October 20 to be acknowledged for this distinction.
Association for Healthcare Philanthropy honorees are lauded for their ability to contribute forward thinking ideas and strategies to the philanthropic healthcare community, paired with notable distinctions in fundraising and brand awareness.
"These honorees are part of a select group who have demonstrated impressive career achievements, deep community involvement, and outstanding leadership in all they do," said president and CEO of AHP Alice Ayres.
Larsen brings more than 13 years of experience in nonprofit management and major gift development to her role as director of philanthropy and communications at Northern Nevada HOPES. Previously Larsen served at the American Cancer Society wherein her work contributed to the creation of the CEO's Against Cancer program and oversight of more than 40 distinguished events. At HOPES she focuses on supporting the team's ability to build brand awareness while allocating attention toward diversifying funding sources that will provide for the health center's long-term ability to serve constituents as the Truckee Meadows population continues to grow.
Some of Larsen's accomplishments at HOPES include the procurement of the largest gifts in the organization's history, a 250% increase in revenue, the completion of the Hope Springs capital campaign generating $2.5 million and the securement of funds responsible for launching such efforts as a Gender and Sexual Health Care Clinic to complement the organization's existing LGBTQ+ work.
"Mandi has a tremendous impact on how we think about the future of our organization, our ability to expand services and help more of the most vulnerable members of our community," said Sharon Chamberlain, CEO of Northern Nevada HOPES. "Mandi's influence on our organization, our community and our patients is far-reaching and like our work at HOPES, it focuses on embracing and enabling our diverse communities most vulnerable to find their own pathways to success and well-being. Mandi is an invaluable member to our team and has demonstrated a keen intellect and leadership in assisting us in finding solutions to the challenges we face as a nonprofit health center."
To learn more about the 40 Under 40 program and each of this year's recipients, visit ahp.org/member-center/awards-and-scholarships/40-under-40.
The Association for Healthcare Philanthropy (AHP) is an international professional organization dedicated exclusively to development professionals who encourage charity in health care organizations. AHP's 4,500 members represent more than 2,200 health care facilities around the world. They collectively raise more than $11 billion each year for community health services.