Northern Nevada HOPES is excited to share HOPES' Board Member, Dr. Todd Felts, was selected as this year's Human Services Network Board Member of the Year!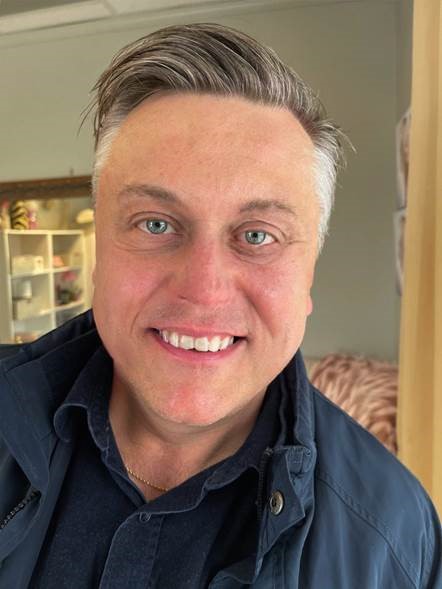 There are many reasons Dr. Felts' work stands out, it was his work earlier this year to raise over $45,000 to support the LGBTQ+ community as part of our part of Give OUT Day campaign, that underscores his passion to improve our community and have a measurable impact on our organization. He has worked tirelessly to enhance our organization using his talents as a professor and professional. He gives his time and uses his own classroom and students to teach them how become better citizens. His work not only has had a tremendous impact on HOPES, but it has also set an example of what it will take to energize young people to take a stand on issues that matter.
As Northern Nevada HOPES' history is one that helped navigate the AIDS crisis nearly 25 years ago, Dr. Felts recognized the need to invigorate this important audience, and offer them a new reason to support, gain care and communicate how the plight of the LGBTQ+ community is directly connected to its physical and mental health.
Weeks before the Give OUT fundraiser, Felts, along with his students at the Reynolds School, worked to produce a commercial that involved people from across our community – from our CEO, to a grandmother who supported her gay granddaughter, to a retired physician with a passion for the issue, and a popular drag queen that quickly resonated with the audience.  Dr. Felts played a significant role as the spokesperson for the commercial. His creativity allowed the people to pass a sign of "Hope" and deliver a critical message that dollars can help transform lives in our community. While these individuals helped deliver an important message, they also helped launch a powerful social media campaign where people from around our community could donate and motivate their own contacts to give to the Give OUT campaign.
Dr. Felts was also on local news touting the importance of Give OUT Day. He quickly volunteered and jumped from location to location to deliver the key messages he helped create for the event. He recorded a series of videos that HOPES delivered on its social media platforms to remind donors and supporters of ways the money would have a direct impact on patient care.
As the build-up to Give OUT Day was important, when it arrived, Dr. Felts' efforts were clear.  People from all over the community gave money and shared their support with a wide network around the community.
Since this is the second year we have nominated Dr. Felts, we would also like to highlight some of the things that he has done in recent months to support HOPES as a volunteer board member.
Dr. Todd Felts is an associate professor of public relations and advertising in the Reynolds School at the University of Nevada, Reno. Before coming to Reno 13 years ago, Todd spent two decades working in politics and serving as a director at a leading crisis communications firm in Washington, DC. Todd has served on the board of trustees of Northern Nevada HOPES since 2015, and of all the organizations he would share his expertise, we feel so honored he continues to serve HOPES.
Saying we're lucky to have him in our community is an understatement but having him serve on the board of trustees at Northern Nevada HOPES has been a joy – from his commitment during the COVID pandemic to raise money for our new tiny house community, Hopes Springs, to training our leaders on messaging to helping us navigate an internal crisis last year, are just some of the contributions he's made in recent months.
Dr. Felts is always an email-click away to provide the kind of leadership that any organization like HOPES needs as we navigate an unprecedented time to provide care to people who need it the most.
Dr. Felts is our teacher. He understands the plight of the people we serve and he carefully crafts important messages that resonates with people evoking empathy, compassion and understanding.
Dr. Felts recently received the coveted Outreach Professor of the Year at the University of Nevada, Reno, and we wrote his nomination letter. We detailed  his commitment not only to HOPES but to other efforts in our state including the Nevada Humanities and the Northern Nevada International Center.
Other provided support to Todd including organizations in town that he's worked with to bring hundreds of young people from around the world to Reno. He shares his skills and his passion to seeing a better life for the people in Reno, and around the globe.
Todd is our mentor. When things got really bad at the beginning of COVID, he was adamant we have an online fundraiser for Hope Springs. As he put it, "Home is more important than ever and we need to remind our support group." Todd not only helped us pull the event together, he served as the emcee for the event.  His enthusiasm helped us secure thousands of dollars. To give you some idea of how he uses his skills to reach people, here is an excerpt from his opening line during Zoom fundraiser he emceed.
"Thank you for taking the time out of your day to join our Hope Springs Virtual fundraiser from your home, as we work to construct a home for others.  
For months nearly the whole world has been home.  Like me, you've probably seen a lot of your HOME, your dog, your yard, your spouse, your children. Imagine the millions of homes around the world where families have sat and weathered this storm together. In these homes we have welcomed back a loved one who ran out for supplies or jumped on yet another Zoom call.  
For many of us, the construction of our homes have protected us.  
Homes vary around the world – from the Yurts of Central Asia, the igloo on Baffin Island, Canada, or a flat in Basque Country, Spain.  Some homes face the sea, others are hidden in alleys, or sit along a country road.  Some homes are grand, others are tiny, but home is where we lay our keys, our dreams and our heads.  It's a place we build memories and frame them on the wall. By being here today, each of us is carving a stone, nailing a nail, and cutting a piece of wood in the construction of something much bigger than ourselves.
We believe that change is not measured in square feet but in the enfolded hands that give hope to this very important community."
As we realize there are many people who do remarkable things in our community, Dr. Felts should be considered for not only having a direct impact on Northern Nevada HOPES, but he has had a real impact on our community.
"Todd has been instrumental to our board of directors at Northern Nevada HOPES through COVID-19 and beyond. Todd's leadership has helped take our LGBTQ+ work and other brand awareness projects to new heights," – Mandi Larsen, HOPES' director of philanthropy and communications.
He is an outstanding leader. He is a joy to work with. And, most of all, he gives of his skills and talents to make a measurable impact.