Northern Nevada HOPES won the 2018 Best Places To Work award in the Medium Business Catagory from Northern Nevada Human Resources Association (NNHRA).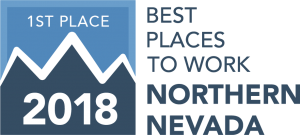 Winners were determined by results of an employee survey that reflects the well-being of the staff. According to NNHRA, companies that win best places to work "foster a workplace where employees willingly go above and beyond in their work, advocate for the organization and intend to stay into the future." According to the survey results, 97 percent of HOPES employees are engaged in the culture of HOPES. Many employees report that they feel HOPES cares about their professional development, listens to their concerns and HOPES creates a fun environment to work in.
Happy employees result in a workforce that is dedicated to serving the patient population of HOPES better. Not only does HOPES staff regularly go above and beyond for patients, but they have a shared value of making sure our patients get the best care possible.
Here is what one employee shared about HOPES in the survey:
"I recognize our workplace has a unique and cherished niche, where diversity is genuinely embraced. I often get to be a part of hearing and seeing stories of people right here in my local community, taking back their lives, and beginning to thrive again. Working at HOPES has changed my life, and I am thankful for the openness and fulfillment it has brought into the work I get to do every day. I had no idea what I was missing in my career growth and personal development, and feel honored to work amongst such high caliber people. We have a shared purpose . . . . People Matter Here! This motto helps guide me daily and has transformed "how" I choose to show up to support the patients and teams on the frontline. It is the willingness and commitment of working with people like this, that help to remove barriers and stigma while delivering legendary service . . . this is what transforms our patient and employee experience!"