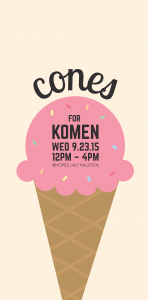 Northern Nevada HOPES is hosting a "Cones For Komen" ice cream fundraiser on Wednesday, Sept. 23 from 12 p.m. to 4 p.m.
The event is meant to raise funds and awareness for the upcoming Northern Nevada Race For The Cure held on Oct. 4. HOPES is selling "Strawberry Road," a popular flavor from IceCycle Creamery along with its fresh and locally made chocolate ice cream.
The Cones For Komen fundraiser will take place at HOPES at 467 Ralston St. at the corner of Fifth and Ralston Streets, from 12 p.m. to 4 p.m. All funds raised will support Susan G. Komen Northern Nevada.
"The Komen Foundation is vital to the health of women across Northern Nevada," said Margo Bender (RN, BSN), leader of the Breast Health Program at HOPES. "With the amazing support and grants Komen gives to HOPES, we are able to help prevent breast cancer by providing education, screenings, and early detection to our patients." 
HOPES staff member participate every year in the Race For The Cure and are excited to give back to the Komen foundation. HOPES would also like to encourage others to support this amazing cause by participating in Race For The Cure on Oct. 4 or donating to Susan G Komen by visiting komennorthnv.org.