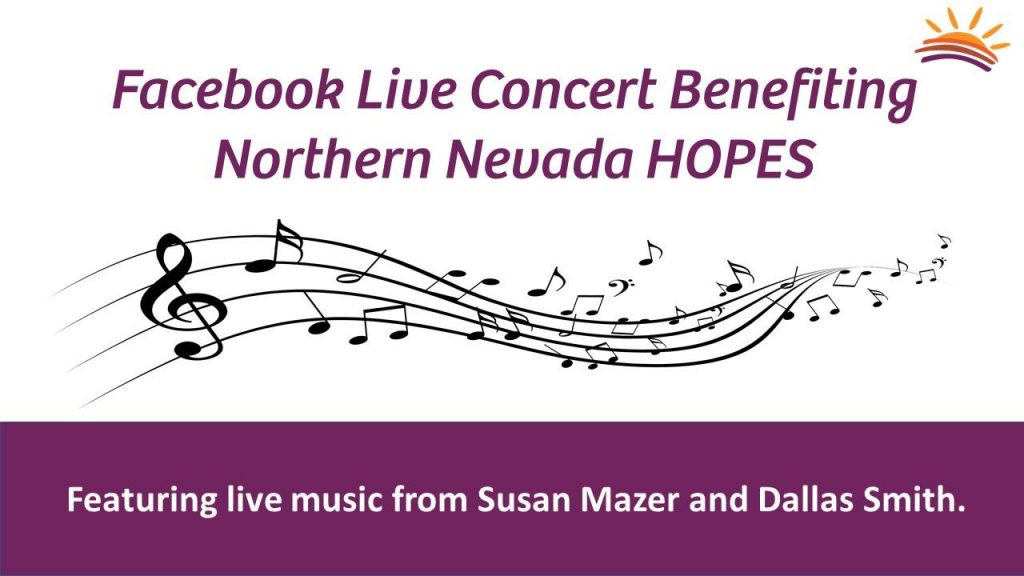 Join HOPES supporters and talented musicians, Susan Mazer and Dallas Smith, for a Facebook Live Concert benefiting Northern Nevada HOPES. Head to our Facebook Page on June 11 at 7 pm!
While you listen, consider donating to HOPES and helping provide comprehensive medical care, wellness services, and other vital programs available to northern Nevadans during the Covid-19 emergency. Please give as generously as you can to support their health.
Right now, through June 30th, your gift will be doubled, up to $25,000, thanks to a matching gift from the Lifestyle Homes Family. That means that while you enjoy the concert, you can provide life-saving care to twice as many people.
You can invest in HOPES' Covid-19 response here: www.nnhopes.org/covid-19/
About the Musicians:
Susan E. Mazer, PhD is recognized as a one of the world's outstanding jazz harpists. Susan has a long performing career, ranging from playing with the Detroit Symphony under the batons of world-renowned conductors, to performing as a soloist Harrah's in Lake Tahoe, Nevada, where she held a solo position for over 15 years. She has also performed with jazz pianist Ahmad Jamal at the Village Vanguard club in New York City, with Natalie Cole, Frank Sinatra and Frank Sinatra, Jr., as well as other well-known musicians. After many years of classical performance, including two degrees in music, Susan chose to move into jazz and world music.
In addition, Susan is a pioneer in the development of and performance on an Electro-acoustic harp.
Susan has recorded over twenty albums, both solo and in collaboration with her husband, woodwinds performer Dallas Smith. Susan holds a doctoral degree from the Fielding Graduate University in Human and Organizational Development, and is the co-founder, with Dallas Smith, and CEO of Healing Healthcare Systems, dedicated to bringing music into healthcare institutions via The C.A.R.E. Channel.
Dallas Smith, from Reno, Nevada, plays flutes, clarinet, and saxophones Dallas performs locally with his wife, harpist Susan Mazer. Dallas and Susan are the founders of Healing Healthcare Systems, producer of the CARE Channel. Dallas is a decade-long member of the Reno Jazz Orchestra, as well as the Latin band No Comprende. His is heard on KNCJ, Reno public radio, every Saturday evening from 6-10pm on Saturday Night Jazz, which he produces together with Scot Marshall. Besides his love of jazz, Dallas is a lifelong student of North Indian classical music, playing the bansuri, bamboo flute.