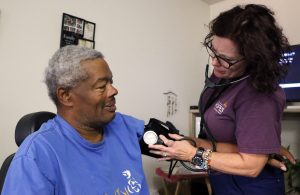 The 70s had been good to L.B. – he survived Vietnam, got a job at an oil refinery, and worked as a popular DJ during the heyday of disco. He was independent, free-spirited, and could really cut it up on the dance floor. Yes, the 70s had been good to L.B…. but 2013 was not.
In 2013 L.B. found himself recuperating from surgery in a dirty motel room. Diabetes had taken his first leg in 2011, a stroke had left him homeless in 2012, and now his other leg was gone. He was in a motel, at least, which was a step up from living on the streets. But he needed more. He needed insulin, antibiotics, and cataract surgery. Another motel guest had been making racist threats against him, so he also needed a new place to live.
But his mobility was gone, the bills were piling up, and L.B. wasn't sure who he could turn to for help. Thankfully, when L.B. asked for help managing his medication, he was referred to Northern Nevada HOPES.
Today L.B. has access to HOPES' Primary Health Care, Behavioral Health, Case Management, Onsite Lab, Medication Management Program, and Pharmacy programs. Seniors' Supportive Nurse Trudy was there to teach L.B. how to track his weekly treatments, therapies, and appointments. Now that L.B. has a better grasp on his health issues, he has the independence he needs to keep living life on his terms.
As his health improved, L.B. rejoined the community – striking up friendships with his neighbors, his postal carrier, and every nurse in the HOPES team. His positive attitude has touched so many, and it's inspired countless people along the way.
Today L.B. has a mobility scooter, a safer apartment, and a number of good friends. He's a frequent sight at New Year's Eve parties and community get-togethers. And he's starting to feel like his old self again.
It's still too early to see what 2018 will bring, but L.B. has high hopes. Right now he's planning to be physically rehabbed enough to strap on his new prosthetic legs and go out dancing with his friends for his 69th birthday.
Thanks to the support he found through Northern Nevada HOPES, 2018 could be L.B.'s best year yet.