We're inviting local artists to participate in Northern Nevada HOPES' World AIDS Day Exhibit of Art on December 1 from 5pm – 8pm at Mckinley Arts & Culture Center, 925 Riverside Dr in Reno.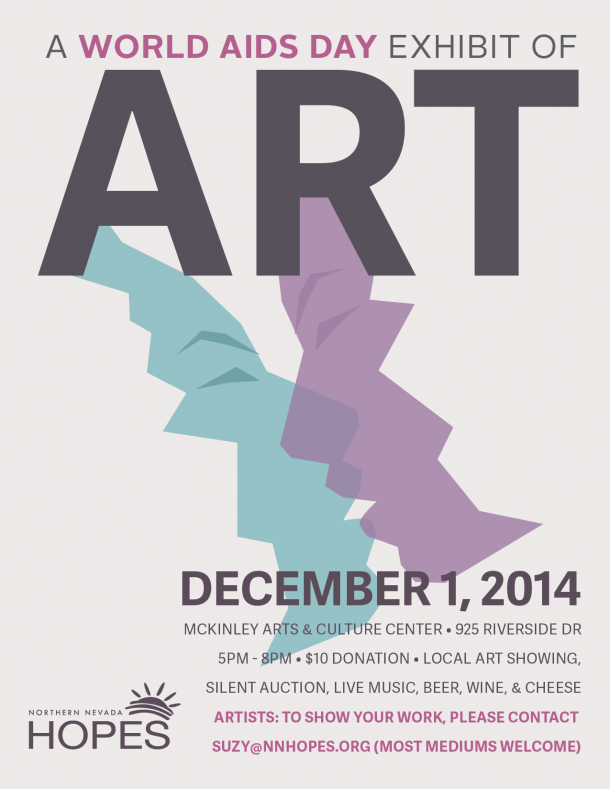 The art show and silent auction is designed to raise awareness about HIV/AIDS and show off the wonderful artists we have here in Northern Nevada. The exhibit will feature work by local artists in addition to live music, beer, wine and appetizers. It's an excellent opportunity for artists to show off and sell their work for the upcoming holiday season.
We're encouraging local artists to contribute paintings, photos, sculptures, ceramics, glasswork and jewelry. Art submissions don't need to have an HIV/AIDS theme – just come and show off your best work.
Artists can rent a 6-foot booth to sell their work for $25. Wall space is also available for pictures and paintings: $10 for the first 24 x 36-inch lot or $5 for a 12 x 36-inch lot. Additional lots are also available for $5.
We encourage artists to submit applications in early November as space is limited. After the entry fee, artists retain all the profits from any work sold. Artists can also donate pieces to the silent auction, and proceeds will go to Northern Nevada HOPES.
World AIDS Day is held on December 1 every year to unite countries in the worldwide fight against HIV/AIDS, support those living with HIV, and remember those who have died from the disease.
Please contact suzy@nnhopes.org for information on how to participate.